SmartPak 2017 Story of the Year
It's time for the heaviest hitters of them all: of our five most-read stories of 2017, which one deserves to be called the best of the year?
Welcome to the 2017 Horse Nation Readers' Choice Awards! For 2017, we're giving readers the opportunity to look back at some of your favorite posts and articles from the past year and decide which of them deserves to win the ultimate year-end title.
For the SmartPak 2017 Story of the Year, we're looking back at the five most-read stories from this year, the truly viral hits that kept readers laughing for days. Check them out one more time and then vote in the poll below! Our Readers' Choice Award winners will be announced on Friday, December 29.
The nominees are…
This Extensive Sales Video May Blow Your Mind (& Also Make You LOL)
"Let's just establish before you watch this twenty-minute sales video (the man is nothing if not thorough) that Walter appears to be perhaps the greatest horse that has walked this planet. I can't decide if my favorite part is where Zack throws an exercise ball at Walter while he sits on a bale (4:48), drags a kayak around on a rope (16:40) or shoots a gun over Walter's side as the horse lays down (4:00). ('If ISIS ever comes to Missouri, I guess we're ready for 'em… I've never actually done this before.')"
Trainer Zackery Stevens and his well-broke sales horse Walter captivated readers in an epic 20-minute long video, demonstrating Walter's many talents both useful and mind-boggling. The only downside is that none of us purchased Walter ourselves. Published on January 18, 2017: read the full story and catch the replay here.
9 Times the Lady Gaga Halftime Show Summed Up Equestrian Life
Getting all the barn girls together for a photo…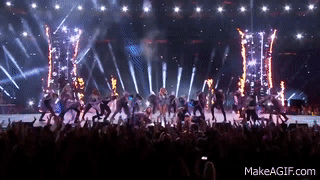 …and then trying to get the horses' ears up so they look cute: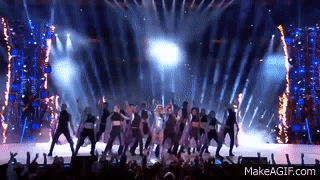 "Lady Gaga is 100% a performer, through and through, putting her heart and soul into every single note, dance move or death-defying leap off of the top of a stadium. Sound like anyone else you know?"
The Super Bowl halftime show is supposed to be one of those great unifying moments in American pop culture every winter — and especially for equestrians this year, it was. This GIF collection brought us together like never before. Published on February 7, 2017: read the full story here.
An Ode to Thunder Snow, the Real Hero of the Kentucky Derby & Equestrians Everywhere
"All we can do is laugh these moments off. And you, Thunder Snow, as you twisted and cavorted over the track at Churchill Downs, you big beautiful goofball, while you may now be the punchline to a thousand jokes, you'll always have a special place in our hearts, because we are all Thunder Snow on the inside."
When Thunder Snow came out of the gate in the Kentucky Derby a bucking, twisting, wild hot mess, he cavorted his way into sports history and the hearts of thousands of fans all over the world. Kristen Kovatch pens this homage to our newest Horse Nation hero. Published on May 8, 2017: read the full story here.
Horses In Last Night's 'Game of Thrones' vs. My Horses
The GoT horses literally run through fire.
My horse doesn't like it when the ground changes color.
"Yes, I know it's fictional TV. But that doesn't stop me from being simultaneously impressed with these horses and totally exasperated by my own."
We can probably make a pretty good case for Game of Thrones itself being a highlight of 2017 — and while this episode was maybe not great to horses in general, it was pretty impressive in terms of stunts done with live riders. And of course, it also reminded us how much our own horses are total morons. Published on August 7, 2017: read the full story here.
Laura Cheshire Is Our New Hero After Her Wild Bridleless Ride
"Sure, there are a few places that it's fun to try riding your horse without a bridle. Places that come to mind immediately, at least for the first few times, include the roundpen or a small, empty arena with all the doors or gates closed. Places I'd definitely never give this a shot include the track, during a race, on a fit Thoroughbred who's never given this one a shot before… but that's exactly what Laura Cheshire had to contend with last Friday at Murwillumbah in Australia when the bridle on her mount Secret Blend fell apart just a few strides into the race."
Jockey Laura Cheshire earned the respect and admiration of thousands of readers after a tack failure snowballed into a disaster waiting to happen: thanks to Laura's cool head and poised horsemanship, she brought herself and her mount Secret Blend home safe — after multiple laps of the track at a full gallop without a bridle. Published on August 29, 2017: read the full story here.