Editor's Picks: My Top 5 Virtual Vendor Village Deals for Wednesday
Are you looking for some great deals to fill the void of not being able to go to spring horse shows? Look no further! Eventing Nation Virtual Vendor Village is an online shopping mecca. Here are my picks for today's deals.
This morning, my significant other informed me that a portion of our stimulus check AND our regular tax return have been deposited in our joint checking account. He followed up with, "I mean, that doesn't mean you show blow it all or anything."
Frankly, I am surprised I even heard that last part. Mentally, I was already here: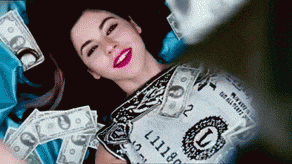 And then here:
All of us across Nation Media, on Horse Nation, Jumper Nation and Eventing Nation are SO excited about the Virtual Vendor Village taking place this week on Eventing Nation. Incredible brands have teamed up to bring you some amazing deals that are exclusive to our readers.
So, without further ado, here are my top five picks from today's deals:
I don't think I can overstate how much I appreciate and enjoy good riding socks. I mean, I really like them. I guess the flip side is that I also really, really hate bad riding socks. They slip down in your boots, they're uncomfortable, they smell… they're just inconvenient. Heck, even Albus Dumbledore knew the importance of good socks: "One can never have enough socks" (Harry Potter and the Sorcerer's Stone, or Harry Potter and the Philospher's Stone, depending on which side of the pond on you're on). So, the notion of getting a deal on good riding socks excites me. Like, a lot. Probably more than it should. Fortunately for me — and people like me — C4 is offering sock bundles for 15 – 23% off.
Kentucky Performance Products Joint Armor
My mare is a special one. She's quirky and stubborn and lovable and honest. And I would do anything to keep her comfortable and performing at the top of her game. Let's be honest. That's what we all want for our horses. An important part of that is keeping her joints healthy. Fortunately, Kentucky Performance Products has a supplement for that. Joint Armor maintains fluid motion and flexibility in joints, provides high levels of glucosamine and chondroitin (plus 100 mg of hyaluronic acid!), supports normal cartilage development and reduces joint deterioration. Combined, these things help keep horses' joints healthy, which makes them feel better, stay sound longer and perform to their potential. Get it for 20% off plus free shipping with code LRK3DE2020.
Speaking of keeping my horse comfortable and healthy, a PEMF/massage combination blanket is something that's definitely on my wish list. The Activo-Med Combi Pro Blanket is a massage and pulsed electromagnetic therapy blanket that results in improved suppleness, muscle tone and overall condition. Once they own it, many riders and trainers wonder how they functioned without it. I want to be one of those riders … This week Equine Therapy International is offering a 15% off special. Now is definitely the time to buy.
Something else on my wish list is the Hylofit System. What is the Hylofit System, you may ask? Well, it's a heart rate monitor for horse and rider that provides real-time feedback and post-ride insights for both athletes. With wireless hardware and an intuitive app and web platform, Hylofit provides insights into the emotional and physical state of your horse. As a user of a riding app that gives me a basic idea of where I've gone, what I've done and the energy expended, this system makes me drool. It's next level (check out our review here). Today you can get 20% off the heart monitor with code HYLOEN.
One thing that horse lovers love to do is let everyone know that we're horse lovers. Jane Heart Jewelry does just that. The rings especially make a bold statement while still looking elegant. Jane Heart Jewelry rings represent the Hunter/Jumper or Dressage disciplines, the Peruvian Paso/Friesian breeds or even a simple signet. Jane's original designs are hand-crafted in solid sterling silver or 14k gold. And you can get 15% off all rings with code ring15.
Jump to Wednesday's deals and special events here. 
Go riding and go shopping!