Horse Nation Says Its Goodbye to Managing Editor, Kristen Kovatch Bentley
Horse Nation wishes editor Kristen Kovatch Bentley well as she takes on a new role with the Retired Racehorse Project.

"They must often change, who would be constant in happiness or wisdom."
– Confucius
Kristen Kovatch Bentley has served the Nation Media family in a number of capacities — first as a contributor, then a freelance writer and, finally, as an editor. The ship that is Horse Nation has been fortunate to have an incredibly capable, attentive and meticulous captain at its helm for the past five years. The crew that she has recruited and developed in her time as editor is sorry to see her go, thrilled to watch her success as she moves forward to work with the Retired Racehorse Project and would like to leave her with these words of goodbye.
From Meagan DeLisle:
Kristen was the first person to take me under her wing at Nation Media. From day one, she became one of my most influential mentors. She took time to teach me, to curb my comma-loving habit and to help me become the best writer I could be. When I took on the role as editor for Jumper Nation, Kristen sacrificed countless hours of her time to help guide me in this new journey of mine. She was by my side as I went through a lot of firsts, and I am so thankful for her always positive presence. It was no surprise that when we finally had the chance to meet in person at the RRP Thoroughbred Makeover that our friendship would only magnify. I am proud to call Kristen my friend and will miss her random writing prompts and effervescent personality greatly. What a pleasure it has been to work with such a wonderful person! Kristen, I leave you with this:
From Noelle Maxwell:
I'm pretty sure I speak for most of the Horse Nation team when I say , "We're going to miss you." More personally, I'm going to miss working with you, which I've done off and on over the years, first with some reader-submitted content, then more recently as a full-fledged freelancer after you invited me to the team (thank you for that invite, by the way!). It's been great working with you and thank you for everything you've done for Horse Nation over the years, thank you for giving me an opportunity to come on board as a full team member and generally putting up with a few of my novel-length Slack messages when I'm trying to figure out a tough story (haha). And, finally, best of luck to you with the RRP, I know you'll do great!
From Esther Roberts:
Kristen, working with you was a blast. I could write pretty much whatever I wanted, and you published it. Example: The Horse Poop Personality Identifier. You always encouraged my off-the-wall writing and edited my articles to make them shine. You really could polish a turd! Wishing you the best in all your future endeavors. 😁💩
From DeAnn Long Sloan:
Compared to others in this exceedingly talented group, I have known Kristen for a relatively short period of time. However, in that time I have developed an immense amount of respect for who she is and what she does. Kristen, I am in awe of your abilities to develop and maintain a sense of camaraderie despite the remote nature of online publishing. You have not only written and managed quality copy, but also have maintained Horse Nation's commitment to ridiculousness that keeps us all laughing. I am grateful for you mentorship and tutelage, and I look forward to continuing to work with you as you stay on as a member of our freelance team. I am confident you will kill it at the Retired Racehorse Project since you've already demonstrated your capabilities with Horse Nation. Go forth and conquer Thoroughbred aftercare!
From John Thier:
I still remember when Leslie Wylie told me that she had added a precocious and hard working writer named Kristen to the Horse Nation contributor ranks. I had no idea that Kristen would one day take over as editor of Horse Nation and lead the HN community to new and incredible places on its journey of "horsing around the world." For years, Kristen was a model of hard work, smarts and collaboration as one of the critical members of the Nation Media leadership team. As just one tiny example, despite having a busy life outside of Nation Media, Kristen had by far the best attendance record to our weekly team calls (far better than yours truly, in fact). Perhaps the most impressive thing to me about Kristen is that, despite being incredibly intelligent and capable, she was always eager to learn and improve. All of us at NM are thrilled for Kristen and cheering her on as she embarks on the next great stage with RRP. Kristen, you are one of the best people I have ever worked with and we miss you a great deal already.
From Candace Wade:
I feel I am in capable, professional and creative hands with DeAnn. Kristen, O Captain! My captain! Kristen has been an encouraging leader of my creative offers. She has been an enthusiastic, professional and dependable guide so that I contributed to the quality of Horse Nation. I will miss her. I will miss her uplifting comments, our little personal chats, her aid in working out ethical issues on some of my stories and that she always helped me feel that I had a valuable contribution to make to the older, less seasoned riders. Best wishes and continued success. I will miss you, K.
From Leslie Wylie:
As the founder of HN, when the time came to hand off the reins to a successor Kristen was the obvious choice. From her original weekly column "In My Boots" to her in-depth reporting on controversial subjects like Tennessee Walking Horse soring, Kristen's ability to write colorfully, think critically and report ethically is second to none. As an editor, she inspired her writing team to be brave and fair with their words. Kristen is that rare combination of cool head and warm heart that will take her far in the world, and already has. She thrives on working in the service of horses, and her new position with Retired Racehorse Project is a perfect fit for her desire to promote equine welfare through education and community. We'll miss Kristen terribly, but the Thoroughbred world couldn't ask for a better aftercare ambassador. You'll always be part of the Nation Media family, Kristen! Godspeed.
As we say goodbye to Kristen in her capacity as managing editor and wish her well in all her future endeavors, the words of Leslie Knope:
"We need to remember what's important in life: friends, waffles, work. Or waffles, friends, work. Doesn't matter, but work is third."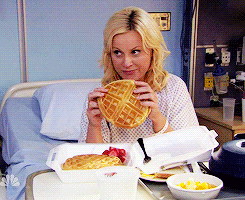 So, Kristen, thank you for all you've done for Horse Nation and for nurturing the friendships that you've formed. We wish you much success and know that you'll always keep in mind what's important.
Go riding!