Musical Suggestions for Valegro and Charlotte's Next Freestyle
The world is your symphony, Blueberry — here's what we think you guys should dance to next.
Charlotte Dujardin and Valegro: is there anything they can't do? In their first freestyle routine (to music from Land of Hope and Glory, The Great Escape, and the dulcet chimes of Big Ben) they won Olympic gold, and their world-record-shattering How to Train Your Dragon dance brings tears to the eyes every time it's viewed.
There's a good chance that Valegro will be retiring after the Rio 2016 Olympics, so future freestyle routines may not even be on the table. But if Charlotte decides it's time to mix things up again to give Blueberry something new to groove to, we've taken the liberty of putting together a few suggestions. (Speakers up for this one, folks.)
"Define Dancing" (Wall-E soundtrack)
Obviously, the pair can rock a children's movie score — it's like How to Train Your Dragon was written with them in mind. The only thing more fitting than this delicate harp tune and soaring strings is the title itself: Valegro and Charlotte have defined dancing every time they set hoof into a dressage arena.
The Game of Thrones theme song
You know, "DA da da da DA da da da DA da da" etc. Seriously, how awesome would it would be to witness Valegro's extended canter or tempi changes while this epic theme rocked the coliseum? This now-iconic theme is just begging for someone to choreograph it … and that someone is Charlotte Dujardin.
"Down the Road" by C2c
Ever since my first listening of this song I've been wishing for some edgy dressage person to freestyle it — and while it would definitely be a bit of a departure for Valegro and Charlotte, I think they could definitely pull it off. There are enough mood and tempo shifts within the song that minimal mixing would be required — there's even a perfect free walk moment at 2:08 with a jazzy shift right up into a canter pirouette … you get the idea. So what if songs with lyrics are frowned upon?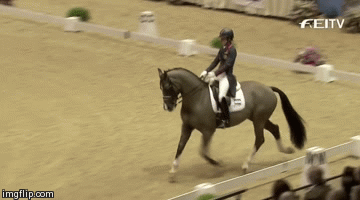 "Fight Song" by Rachel Platten
Is this song not already about Charlotte and Valegro? "Like a small boat on the ocean / Sending big waves into motion" … think of their story: Charlotte was hired as a groom, then offered the chance to develop Valegro for Carl Hester to eventually show. They did not intend to smash world records or win every dressage title in existence, but that's exactly what happened. Now picture this championship pair bringing an arena to life as they dance to this song and you will agree that there's nothing more fitting.
What songs do you want to see Charlotte and Valegro dance to? Share your thoughts in the comments section!
Go Charlotte, go Valegro, and go riding!