Editor's Picks: My Top 5 Virtual Vendor Village Deals for Sunday
Our sister site, Eventing Nation, launched its second annual Virtual Vendor Village. We may be missing out on some of our usual spring shopping at shows, but the Virtual Vendor Village brings some of those deals straight to you. Here are my top picks for today.
Y'all! The time has come! Eventing Nation has launched its 2nd Annual Virtual Vendor Village.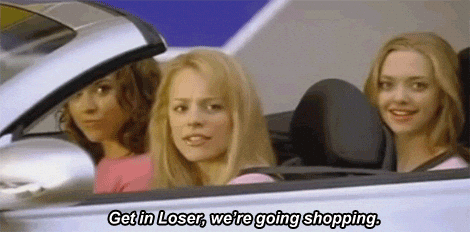 (Yes, I will continue to use this gif every chance I get.)
One of the best parts about being at a horse show is the vendor shopping. However, due to COVID 19 restrictions, that's not possible in the same way as it was before. Have no fear! Our sister site's Virtual Vendor Village will do its best to fill your need for horse event retail therapy. Plus, it's a great way to support equestrian businesses, many of which are still facing lost revenue from lack of  in-person presence at live horse shows.
Each day we'll be bringing you new deals from some of our favorite companies via EN's Virtual Vendor Village, and each day I'll be sharing my top five favorite deals of the day. Here we go for Sunday!
The weather is getting warmer and you know what that means — FLIES. It's starting to get buggy out there, so it's time to ask yourself, "Am I stocked up on fly spray?" If the answer is no, now's your chance to stockpile the good stuff with this 30% off offer from Ecovet (use promo code Virtual30), the first fatty-acid fly repellent for horses. Tested and endorsed by veterinarians, Ecovet provides a legit alternative to toxic pesticides. We've all been burnt before by "all-natural fly sprays" that turn out to be useless garbage, but this one is different — IT REALLY WORKS. And! It stays put. Also, while Ecovet v1.0 was admittedly kinda stinky, they've since updated the formula with a much more palatable scent, so if you tried it back in the day and didn't like the smell I'd encourage you to give it another go. Many thanks to Dr. John and his crew for their continued support of the Nation Media family!
I won't lie — I have some pretty major helmet cam envy. Why, you may ask. To put it quite simply, Cambox is why. These low-profile helmet cams are amazing and I really, really, really want one. I also want my cowboy mounted shooting friends to get them. The POV from this helmet cam can't be beat, and neither can the deals CamBox is offering this week. Multiple deals will run throughout the Virtual Vendor Village: There's the Cambox V4 Pro full bundle, which gets you the Cambox V4 Pro + 64 Gb SD Card + 2 additional fasteners + protective case + Cambox cap + power bank + warranty extension all for $499 instead of $600. If that's a bit out of your budget, there's the Cambox V4 Pro + 64 Gb Memory Card bundle, which is $475 instead of $525;. Then there's the Cambox V4 Standard + 32 Gb card + 2 velcro fasteners + Cambox Cap bundle, which is $399 instead of $449. And Finally there's the Cambox Origin + 16 Gb SD card + case + cap bundle, which is $199 instead of $276. No matter what bundle you choose, you're sure to save — and get an awesome and discreet helmet cam!
It's no secret that here at Horse Nation, we love SmartPak. They get us because they are us. And this year's giveaways for the Virtual Vendor Village only serve to remind us of that. Since we all know fly season is ready to hit us in full force, for today and tomorrow only, SmartPak is offering a Fly Gear Giveaway. Included in the package is a SmartPak Deluxe Fly Sheet, SmartPak Deluxe Fly Mask and SmartPak Fly Boots. Armed with this gear, flies will be no match for your horse! You can enter the contest by clicking on the graphic above.
I'm totally a mare person — I even have two chestnut mares. I like a little sass in my life. And I really like a little sass in my apparel and home goods. Enter Mare Modern Goods. I love their badass collection. It suits my style and my attitude. But for people who like things a bit more tame, there are multiple collections to suit your needs. And the best thing about Mare Modern Goods? Their mission is to create beautiful, well designed products that tell the story of the human-horse connection. They work to uplift the equestrian community and bring a positive voice to the equestrian world. They believe that everyone who has a desire to, belongs in the equestrian world and are committed to supporting and showcasing every kind of rider and horse. And that's something I can totally get behind. All this week, you can save 21% site wide using promo code KLREN21.
Speaking of having two chestnut mares, I also have two chestnut mares with white socks. And I live in Western Pennsylvania. And my mares are out most of the time. You know that means? Skin funk. Especially in the spring. We are no stranger to scratches and cannon bone crud. That's why one of my picks for today is Banixx. Between their medicated shampoo and anti-fungal spray, Banixx does a bang up job of tackling skin issues in my horses. All this week you can get 20% off any Banixx product when you shop at Valley Vet Supply.
Jump to Sunday's deals and special events here. And if this week doesn't fulfill your requirements for a little retail therapy, Kentucky is hosting its own Vendor Village all week during the Three-Day Event, April 21-25. You'll be able to find more on this online shopping event on the Kentucky website here.
Go shopping and go riding!