CLM DWN: 'Oh Crap' Monday
Monday is already the crappiest day of the week, so it only makes sense that we make things official. Here's our latest "oh crap" moment.
Expectation vs. reality. It's something we all struggle with, and some Mondays bring us a harsh dose of reality. We expect the week to go one way. We're going to get our work done, we'll be productive, we won't finish out the week with feelings of anxiety over everything we didn't get done. But then reality hits.
Riding horses is sometimes like this. For instance, the idea of a lovely gallop on the beach brings us this expectation: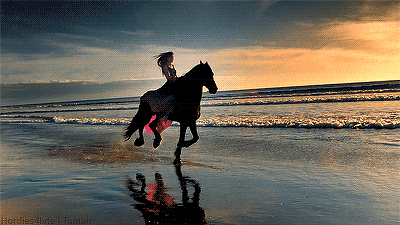 But then reality hits and it looks a lot more like this:
Oof! Falling off your horse is never a pleasant experience, but this video sheds new light on unplanned dismounts. This girl rolls, tumbles and flips in every direction through the coarse sand while her horse continues moving at a quick rate down the beach. We bet she was thinking, "Oh crap!"
Hopefully she was able to get all the sand off of her and the person down the beach was able to stop her horse from running too far!
Go forth and tackle your Monday, Horse Nation. Go Riding!
Have an "Oh Crap" moment to share? Email your photo/video and a brief explanation of what is going down to [email protected]. Instagram users, tag your moments with #OhCrapMonday (your photos need to be set to public or we won't see them!).