Best of JN: Sweetnam Murders Flowers, Wins GP
A crazy inside turn between fence one and two set a time no one could beat on Sunday.
Shane Sweetnam and his spectacular 16-year-old partner Cyklon were the first to go in a seven-horse jump-off this weekend, and Shane knew he was going to have to do something a little crazy to get the win. In this case, it meant taking a wild inside line, taking out a flower pot and jumping at a jaw-dropping angle, but dang if they didn't pull it off!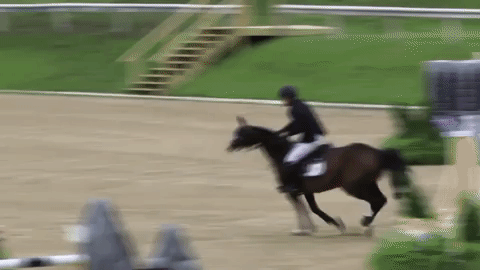 "I knew there were fast riders behind me, and I was first to go," said Shane. "I saw the inside turn, and I knew I was on an experienced horse, so I tried it and it worked out. The last line walked an outside six [strides], but watching the riders that came after me do five, I thought I left the window open a little bit by not doing that but it worked out."
David Beisel and Ammeretto were the only other combination to attempt the inside line, and they were also able to cut out the stride Shane did in six. But somehow, Shane and Cyklon held them off to win by less than one tenth of a second!
See the full jump-off round and top placings below. Go Jumping!
Jumper Nation offers a dynamic array of engaging content custom curated for hunter/jumper enthusiasts. In addition to aggregated horse show news and results, we feature rider profiles, training tips, barn tours, style guides and much, much more, all complimented by a vibrant social media presence. Check us out today!