Like Sundance, But With Horses: A Preview of the 2015 Equus Film Festival
The Equus Film Festival is galloping into New York City this weekend, November 20-22, to highlight and reward the diverse and creative efforts of those who artistically pay homage to the horse through media.

=
2015 Equus Film Festival Poster by Tony O'Connor.
About the Festival
The Equus Film Festival was founded in 2013 in St. Charles, Illinois, by avid equestrian Lisa Diersen. Since then it has grown in numbers and moved to NYC in its growing quest to showcase some of the world's best equestrian film, visual art and literature as well as raise awareness about some of the horse world's most pressing issues. Thanks to the Equus Film Festival, many films have also gained international recognition and distribution.
"We believe that film holds the power to experience a story in the most compelling way. Therefore we empower storytellers to share their unique stories in the most optimal setting, a movie theater. Placing the festival in the capital of the world, New York City, where people from all walks of life can enjoy these inspiring stories. — Equus Film Festival
Here's a very small sampling of what we have to look forward to at this year's festival (click on any image for more information):
Film

Music & Music Videos
Visual Art
Discussion
There are also a number of speakers via the EQUUS Film Festival 2015 Director's Panels — you can check out that line-up here.
Editor's Note
Two of Horse Nation's own contributors, artist Shya Beth and author Candace Wade, will be participating in the Festival.
Candace Wade's "Horse Sluts: The Saga of Two Women on the Trail of Their Yeehaw."
Shya Beth's "Blue Jean Jumper."
Also, there will be a Kid's Day on Saturday with kids and adults invited by  Li'l Herc, a "charming equine character" created by Beatrice Bulteau and Suzanne Kopp-Moskow to see a free movie, along with activities and refreshments. Get your FREE tickets here!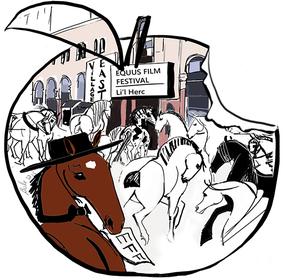 [Website] [Facebook] [Tickets]
check out The Flying Shetlands, a blog by equine artist and rider Shya Beth. Her mission is to showcase and highlight unique and exceptional equine art and artists across the globe.
Growing daily, The Flying Shetlands has new articles every Tuesday and Friday. It is also the founder of the first ever #EquineArtHour on Twitter for equine artists along with art and equine enthusiasts to share their work and interact with each other for an hour every Sunday, 4-5 p.m. See the official page here.