Kentucky Performance Products Nutritional Minute
This week's topic: Round bale feeders.

Via the Kentucky Performance Products Tips & Topics Blog:
Round-bale feeders reduce waste and increase intake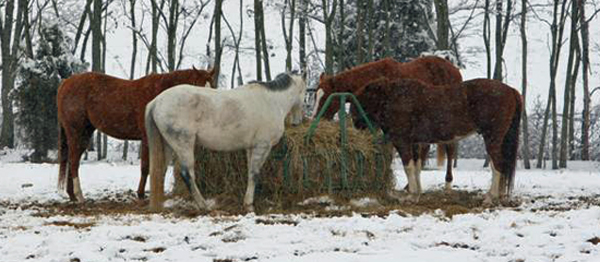 A study done at the University of Minnesota revealed the following interesting facts:
Feeding round bales without a feeder (placing them directly the field) results in 60% of the hay being wasted.
Placing round bales in a feeder reduces losses to between 5% and 30% depending on the design of the feeder.
Horses fed from feeders tend to consume more hay. Feeder-fed horses ate 2% to 2.4 % of their body weight in hay, while non-feeder-fed horses only ate 1.3% of their body weight.
This study shows that horses eating round bales not placed in a feeder may have trouble meeting their energy requirements even when hay is present.
Reference:
Round-bale feeder design affects hay waste and economics during horse feeding.
Martinson K1, Wilson J, Cleary K, Lazarus W, Thomas W, Hathaway M.
J Anim Sci. 2012 Mar;90(3):1047-55. doi: 10.2527/jas.2011-4087. Epub 2011 Oct 7.
Article written by KPP staff.
Copyright (C) 2015 Kentucky Performance Products, LLC.   All rights reserved.
---
Article sponsored by Micro-Phase, which provides essential vitamins and trace minerals missing from forages and unfortified diets in an easy-to-digest form.
When health issues arise, always seek the advice of a licensed veterinarian who can help you choose the correct course of action for your horse. Supplements are intended to maintain healthy systems and support recovery and healing. They are not intended to treat or cure illness or injury.
About Kentucky Performance Products, LLC: Since 1998, Kentucky Performance Products has simplified a horse owner's search for research-proven nutritional horse supplements that meet the challenges facing modern horses. KPP horse supplements target specific nutritional needs and are formulated to complement today's feeds, thus safeguarding against over-supplementation. Each product is scientifically formulated and made with high-quality ingredients at certified manufacturing facilities. Kentucky Performance Products is proud to offer a quality assurance promise backed by a money-back guarantee. Kentucky Performance Products brings you horse supplements you can count on because the horse that matters to you, matters to us.