Field Without Fences: A Photo Essay
What is it about horses that sets the hearts of young girls free? Words by Erika Johnson; photos by Travis Dewitz of Dewitz Photography.
There is something magical about the connection between a girl and a horse. It's difficult to express in words and nearly impossible to capture in an image, and yet this photo essay somehow manages to articulate it with ease.
Erika Johnson, whose daughter Teslyn is featured in the essay, explains, "This girl was once scared of horses — I think she is passed that now… I wanted to show her what happens with trust, confidence and perseverance."
The photo essay was originally published on the blog of Travis Dewitz of Dewitz Photography. Travis is based in Eau Claire, Wisconsin, where he specializes in corporate photography, portraits and youth modeling. From Travis: "My work is engrained in my heart and in rooted in my memory, both personally and collectively as I strive to approach every photograph with a sense of intimacy. I believe that telling stories through photos are the fabric of history and that they have the power to inform and transform. I work diligently to capture a moment, where the picture says it all."
We are grateful to Erika and Travis for allowing us to share this breathtaking collaboration. To view more photos from the shoot, visit Travis's blog here.
Field Without Fences
She stands with attitude in the barn wearing these boots like she's going to war, dressed in this remarkably amazing black dress that makes her seem like she's a big deal. Her black horse saunters beside her with a certain power and ruggedness; yet I do not know who holds more of the undeniable strength they both carry. Their soft whispers between each other give the impression to be dark and deep, and I cannot help but wonder of the stories they breathe only with one another. What is this courageous trust they are bragging about into each other's souls? I impatiently watch as she leads her dark beauty onto the field with all of the others.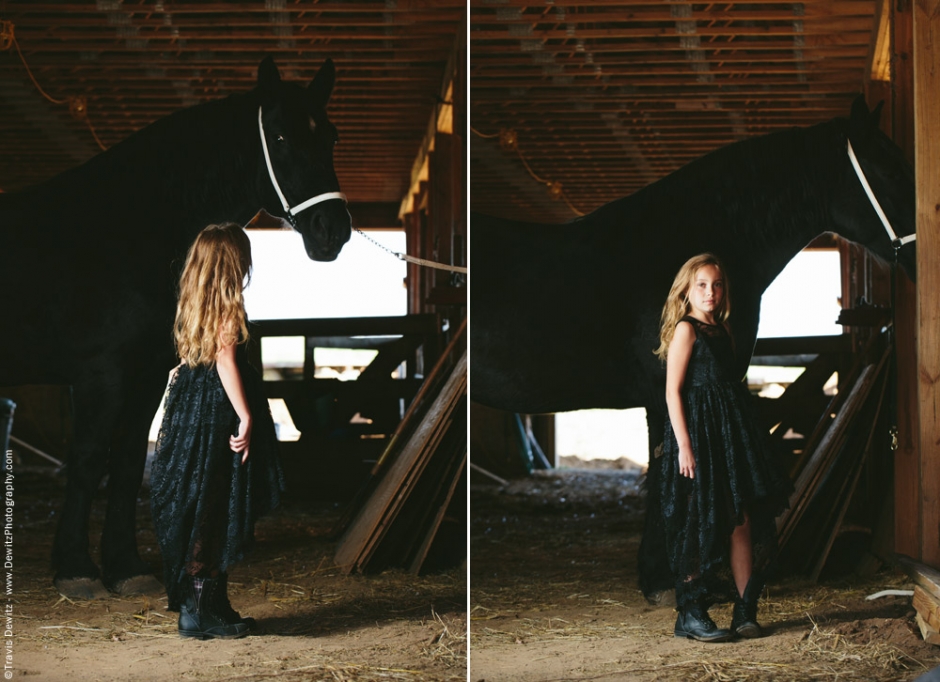 Heads high with pride ramble on toward these two bodies of energy; to just exist with them in nature is to be a part of something bigger than themselves. This young girl is as wild and free as the horses in her circle. Her fearlessness is captivating as she moves about these regal beasts with soul searching eyes and a delicate touch. I hear her call each of them by name as if they are her childhood friends. Her voice is so calming and reassuring. Hours go by as she has the innate ability to dream and love with the world around her. She moves gracefully as independence races through her blood and you can see her imagination and instinct transform her growth and confidence. Her face is one of freedom, of wild hearts that can't be broken.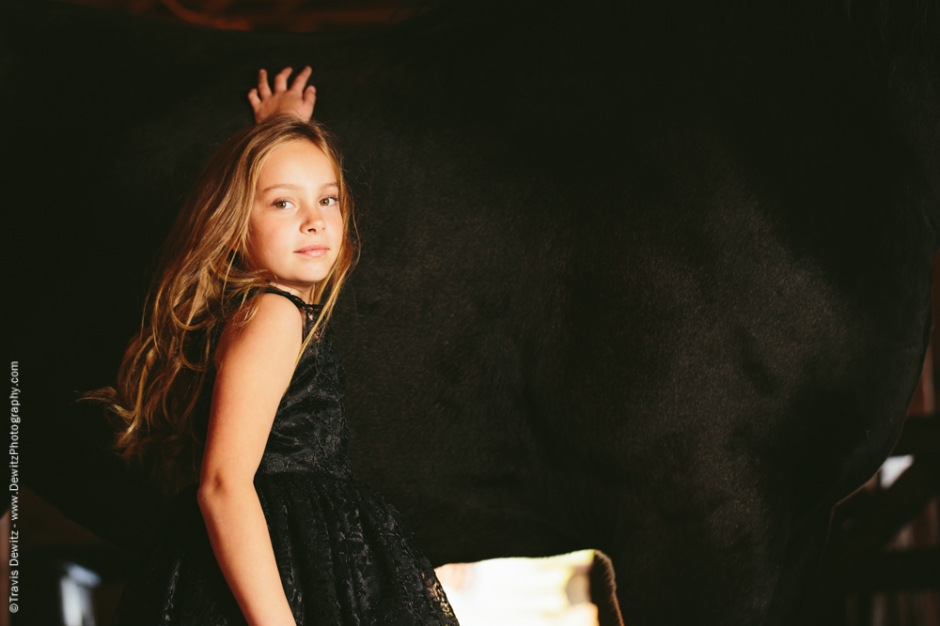 I catch myself marveling at why I am so entranced by her and her spirit among these majestic untainted forces. She floats among the steeds laughing and giggling uncontrollably with her face to sun and her back to the wind. Her unwavering love for her soul-mates is evident in her every move. She stops to lay her head on their necks and wrap her arms around them as they lean into her, showing their affection back for one of their own. I begin to realize these horses and the lass in the lacy black dress are not far apart in courage, determination, toughness, heart, and guts; that's what little girls should be made of.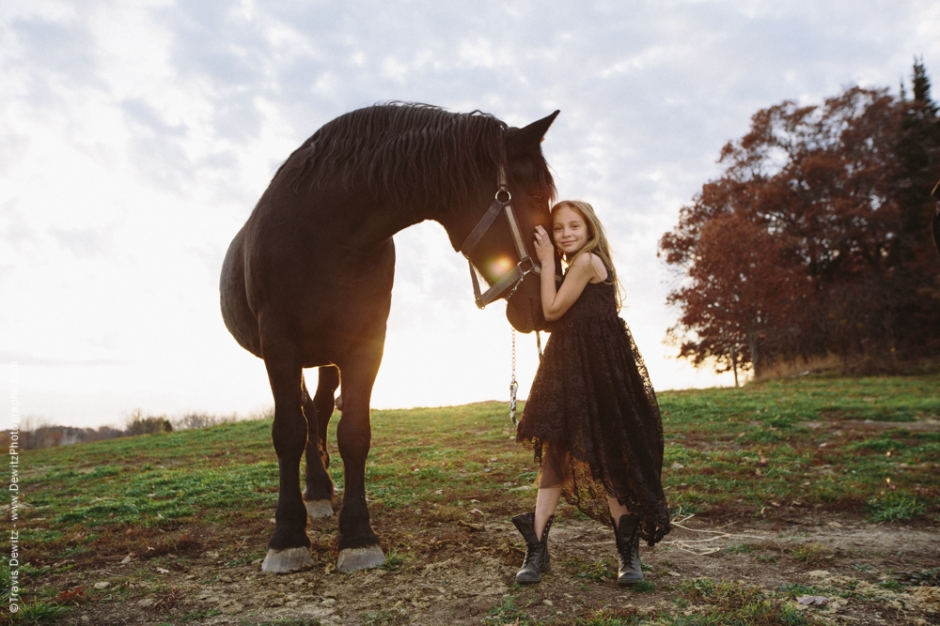 That was me. The strong brave soul who brought the saints to glory in an afternoon playing in the field as we left imprints on each other's souls. In those fleeting moments I could reflect upon myself with poise and self-confidence. I was that little girl with an immense trust and fearlessness of a soldier who brought grittiness to the meadow that afternoon. There is something about those memories of pure reckless abandon and loving with your entire heart and mind. To inhale those moments of baring the root our souls without any barriers; in a field without fences that sanctions our imagination to run free before time diminishes away from our childhood grip.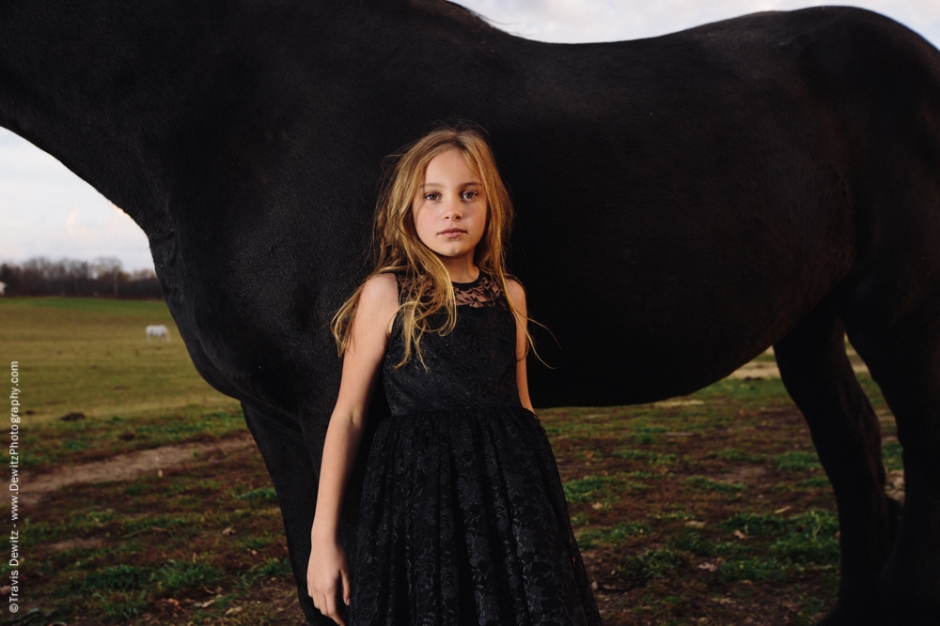 As the sun begins to drop I watch her soak in her last breaths of the day, the dirt and the dust. The beliefs and robust core of this 8-year-old girl are held steady through her stubborn and brave stature; yet her tender heart is as pure as the morning dew. The other horses retreat back as she stands beside her dark beauty with one last kiss before the night falls. She is truly free. Her dress, her boots, her straw colored tasseled hair all just simply a part of her living this astounding childhood where she can fit in and just be who she is. The walk back to the barn seems to bring a change in her demeanor. Her soft glimpse back to her horse shows a face of bewilderment and unknown — a face I hadn't seen yet. The childhood rush of this brave soul all afternoon changed as she walked away to her reality. Her eyes tell her story.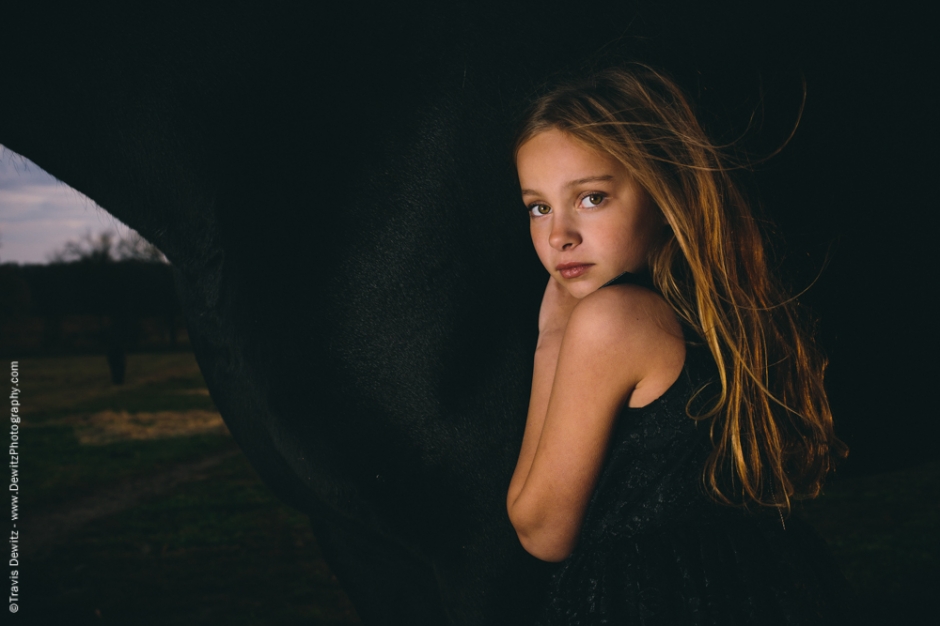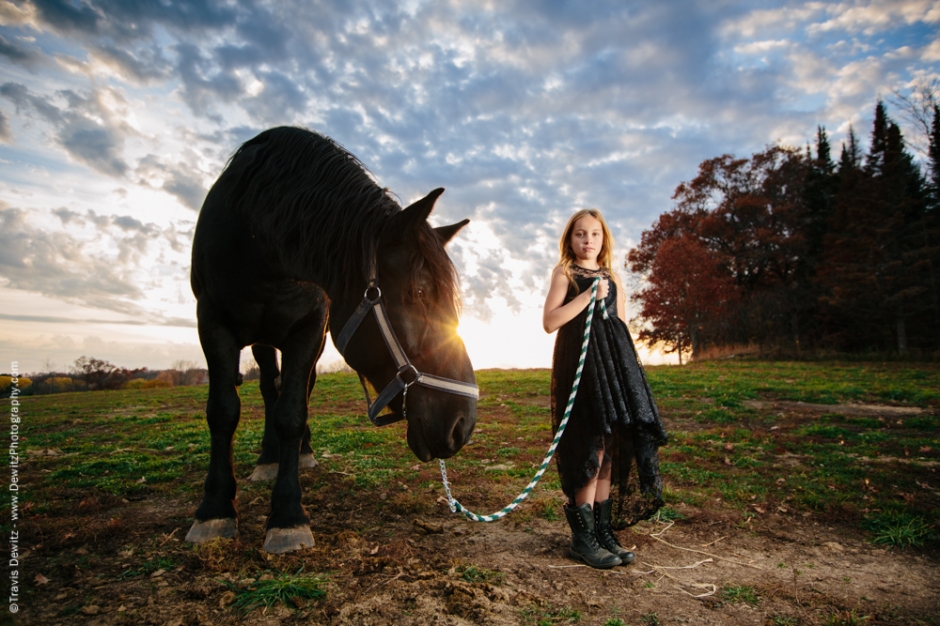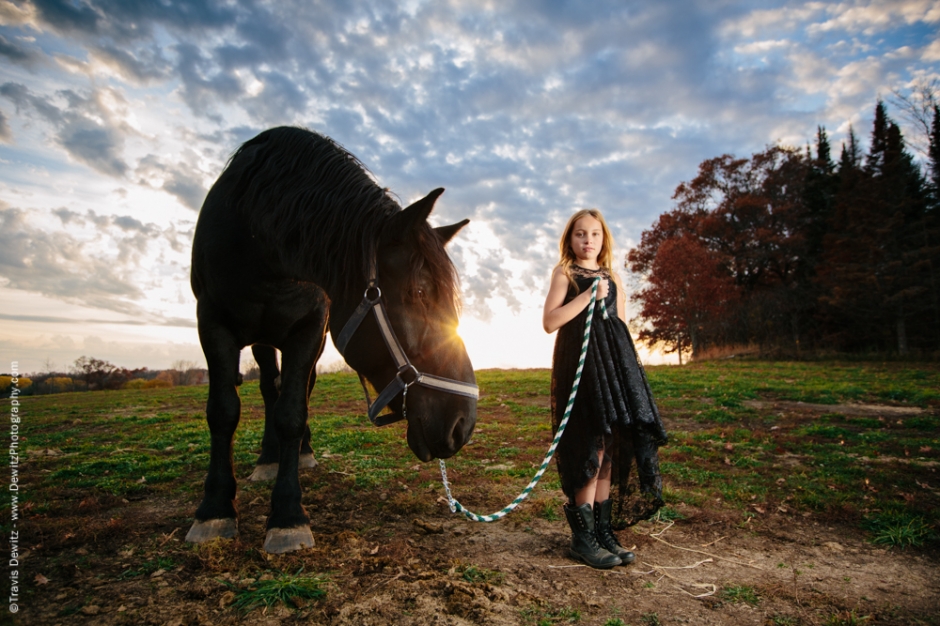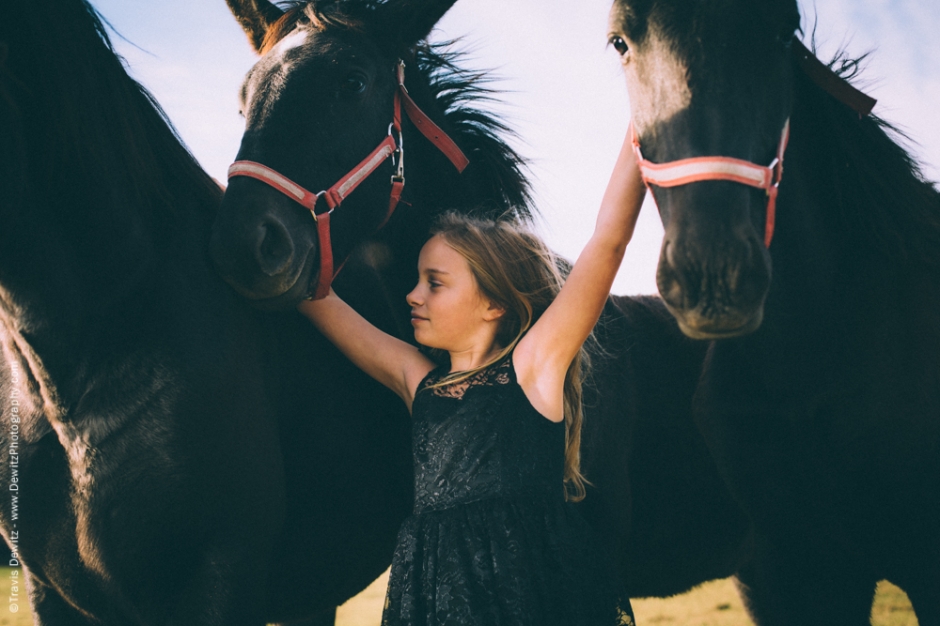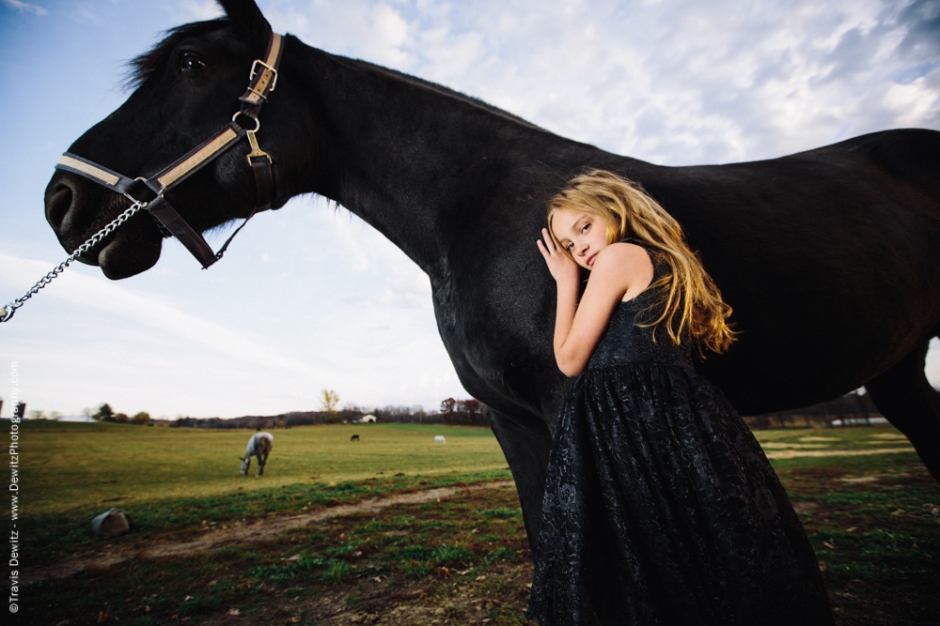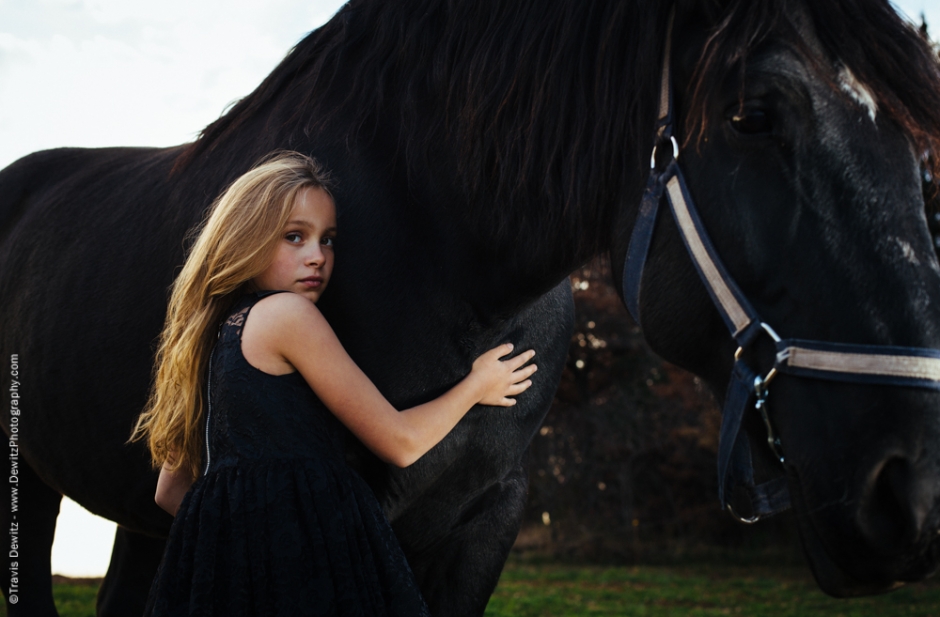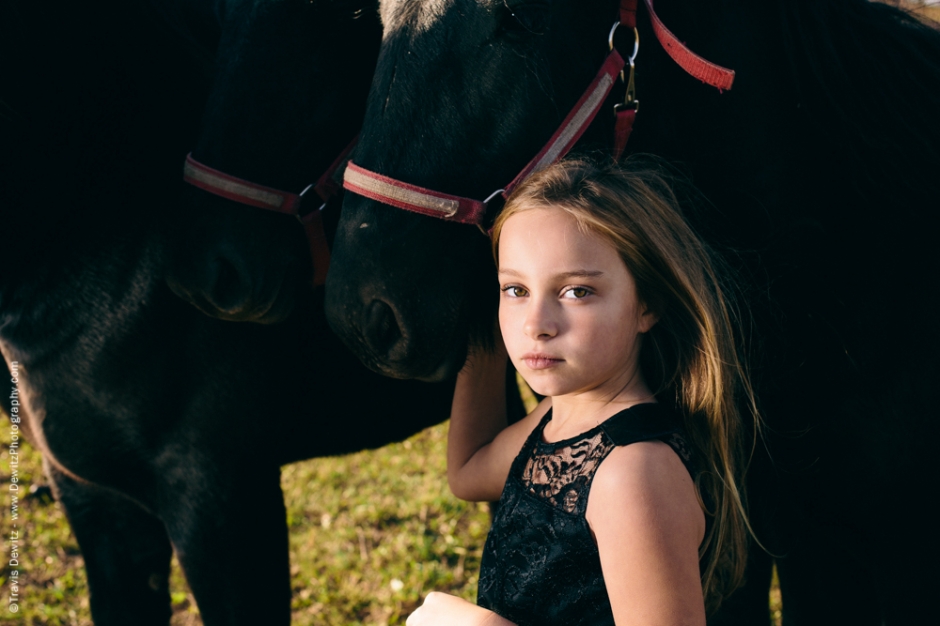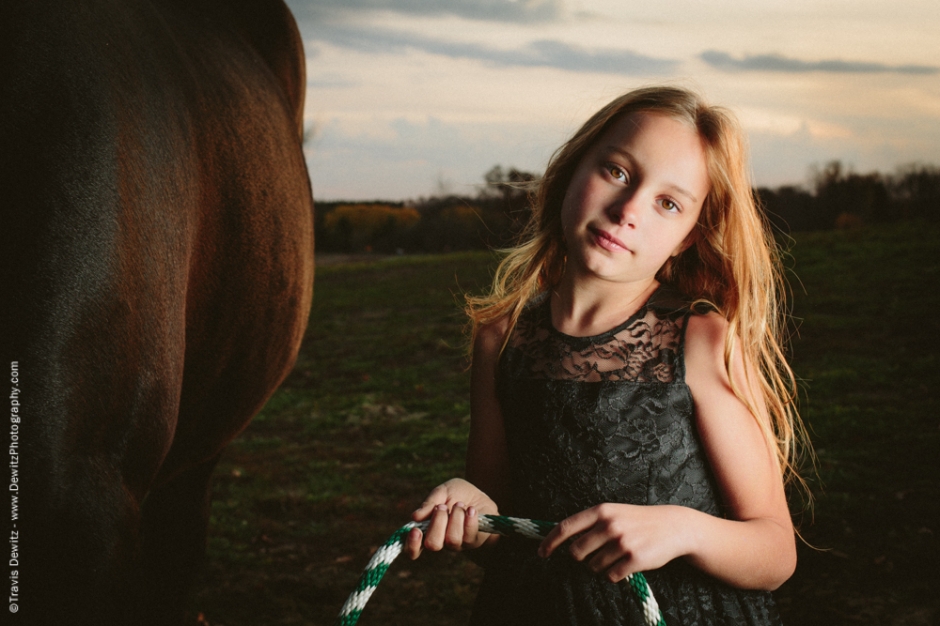 Go Riding.