5 Times the National Finals Rodeo Got It Right
The Superbowl of rodeos kicks off on Thursday night. Here are five good reasons to drop what you're doing and let 'er buck.
Ralph Arvesen/Flick/Creative Commons
It's finally December, which means holiday music, decorating the house, drinking lots of hot chocolate and watching the NFR. The National Finals Rodeo is the culmination of the rodeo season for professional cowboys and cowgirls competing in timed events including steer wrestling, tie-down roping, team roping and barrel racing, and roughstock events including saddle bronc, bareback riding and bull riding. The top 15 contestants in the world standings are invited to compete annually in the 10-day event which has taken place in Las Vegas for 30 years. When the dust settles at the end of 10 days, a world champion is crowned in each event based on season-long earnings and including what's won at the NFR. Here are five instances in which the NFR is undeniably doing things right:
1. There's over  $6.3 MILLION at stake.
Makes those cute little ribbons on which you spend so much blood, sweat and tears look kind of silly, doesn't it? There are also more belt buckles given out as prizes than you can shake a stick at.
2. Can you ride a bucking horse for eight seconds? You're halfway there to winning a big piece of all that money.
Eight seconds? Is that all? And you don't even have to try to get control of the horse and hope the judge wasn't looking, you just have to hang on and kind of look like you know what you're doing.
3. And after those eight seconds are up, a nice man on a horse rides up to save you.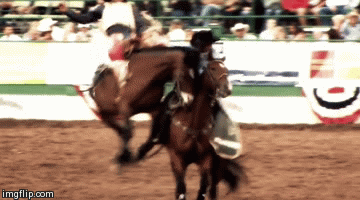 You don't have to worry about taking out the rest of the arena or the ringmaster or how on earth you're going to get yourself out of this mess–this professional pick-up man's job is to literally pluck you from the back of your bucking horse and whisk you to safety. Can I get one to follow me around in my day-to-day life as well? Do they make life-choices pick-up men?
The pick-up man's job is actually pretty tough–they're the guys that catch up to the bucking horse, get it under control, remove the flank strap and rescue the rider, all at a good canter or gallop while the bronc is still trying to buck. They wear padded chaps to protect their legs in close quarters and they need the brokest, hardest-working horses in the rodeo.
4. Fallon Taylor.
Yes, there is a legitimate "Best Dressed" award given out every year at the NFR, and Ms. Taylor is a favorite to win it again. A former model and actress, Taylor actually held a contest in 2013 for her fans to design an outfit for every night of the ten-round rodeo. She then started a clothing line in January after last year's NFR to start producing some of those designs, helping to jump-start the western fashion careers of some of her fans. To look at photos of her closet is looking at a rainbow unicorn who ate glitter for breakfast and then went to hang out with Ke$ha. This is what Fallon Taylor's hat tree looks like:
Also, tie-dye pants. That's really all that's important here.
5. The contributions of ALL of the horses are celebrated and honored.
This is the 2012 Saddle Bronc of the Year, "Chuckulator" owned by Sutton Rodeo.
The 2014 AQHA/PRCA Horses of the Year in each timed event have already been named, but the NFR will also honor the top rough stock as well in saddle bronc, bareback bronc and bucking bull. (If you value your own life, please do not pass this information on to your horses or they too will strive to be named the Best Saddle Bronc of 2014.)
The NFR kicks off on Thursday night, December 4th and runs through the next ten nights to wrap up on Saturday, December 13th. You can watch from home at 10 PM on CBS Sports Network.