KPP: Who needs a gym membership when you have horses?
Day-to-day life with horses might be burning more calories than you think. Our friends at Kentucky Performance Products do the math.
From the Kentucky Performance Products Tips & Topics blog:
Horse people agree: one of the best parts of owning a horse is taking care of it. Who doesn't love looking out the kitchen window and seeing their horse grazing contently in the pasture? Most horse folks would rather spend the day cleaning the barn then cleaning the house.
Along with being great for your mind, horse keeping is great for your body. Who needs a gym membership when you have horses to take care of!
Use the chart below to calculate how many calories a day you burn during your equine activities.
Estimate of Calories Burned Working with Horses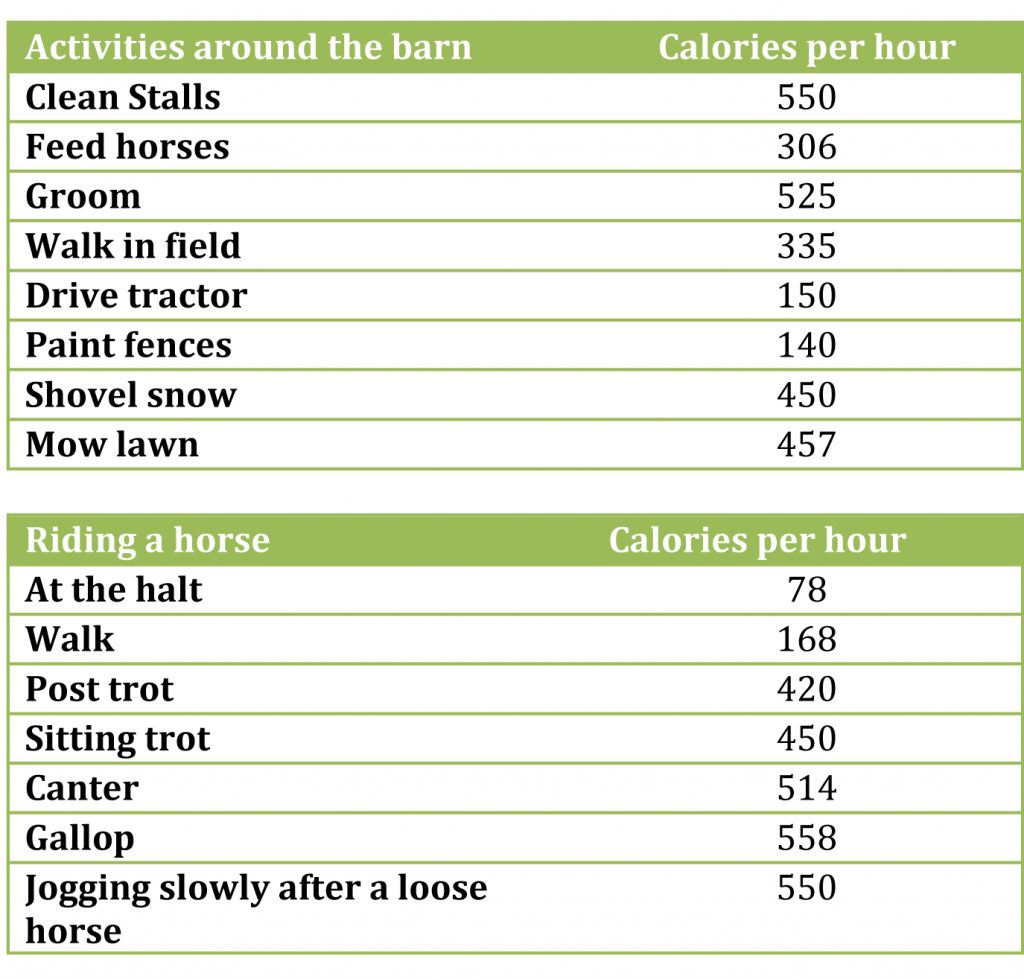 The estimates above are based on the calories burned by an average 150-lb person. Of course there are many variables that go into the number of calories each person uses to accomplish a task.
Heavier-set horse folks will burn more calories than their thinner friends walking across the field to catch their steed. A beginner rider expends more energy balancing themselves at a canter than experienced riders. It takes more energy to train a green horse than it does to ride a well-schooled mount.
You can get a fairly reasonable estimate of the number of calories you are burning by adjusting the chart above based on your body weight. Add 10% for every 15 pounds over 150 pounds you weigh, and deduct 10% for every 15 pounds under 150 pounds you weigh.
As an example, a 105-lb woman will expend 359.8 calories per hour cantering (514-(514 x 30%) = 359.8 ), while a 180-lb woman will expend 616.8 calories per hour cantering (514+(514 x 20%)= 616.8).
Winston Churchill once said, "There is something about the outside of a horse that is good for the inside of a man." This statement is true in more ways than one!
Article written by KPP staff.
Copyright (C) 2013 Kentucky Performance Products, LLC.   All rights reserved.
---
Article sponsored by Micro-Phase, which provides essential vitamins and trace minerals missing from forages and unfortified diets in an easy-to-digest form.
When health issues arise, always seek the advice of a licensed veterinarian who can help you choose the correct course of action for your horse. Supplements are intended to maintain healthy systems and support recovery and healing. They are not intended to treat or cure illness or injury.
---
About Kentucky Performance Products, LLC:
Since 1998, Kentucky Performance Products has simplified a horse owner's search for research-proven nutritional horse supplements that meet the challenges facing modern horses. KPP horse supplements target specific nutritional needs and are formulated to complement today's feeds, thus safeguarding against over-supplementation. Each product is scientifically formulated and made with high-quality ingredients at certified manufacturing facilities. Kentucky Performance Products is proud to offer a quality assurance promise backed by a money-back guarantee. Kentucky Performance Products brings you horse supplements you can count on because the horse that matters to you, matters to us.