Weekend Update from Kentucky Performance Products
Watch out–there's a new blogger in town! His name is Caden Talip, he's in the third grade, and he's totally awesome.
Presenting: Caden's Awesomeness Blog. Kentucky Performance Products is excited to sponsor Caden and the Kentucky Junior Rodeo Association during the 2012-2013 season. Caden will be keeping everyone up to date on his accomplishments and contributing blog posts to the Kentucky Performance Products website.
Meet KPP's newest blogger, eight-year-old Caden Talip.
Caden is a third grader in Lawrenceburg, Kentucky, and loves to rodeo. He competes in goat tying, dummy roping, and chute dogging. Caden started riding at an early age and still has his first pony, Krispy Crème.
Caden's current pony is a 10-year-old sorrel gelding named Yogi. Caden rides Yogi in rodeos, horse show costume classes, and parades. Yogi and Caden practice goat tying, pole bending, and barrel racing several times a week. Caden also uses a big gray horse named Hollywood to practice roping. Hollywood belongs to a friend of Caden's dad and is very nice calf horse. Caden uses both Yogi and Hollywood to practice the calf sled and hot heels.
This will be Caden's second season of competing in the Kentucky Junior Rodeo Association (KJRA). Along with KJRA he competes in the Southern Indiana Junior Rodeo Association (Salem, Indiana) and Youth Rodeo Challenge Series (Lancaster, Ohio). At the 2012 Ohio Quarter Horse Congress, Caden finished 7th out of 37 in the Cinch Dummy Roping Contest. On November 4, 2012, Caden also finished 2nd in goat tying with his personal best time so far.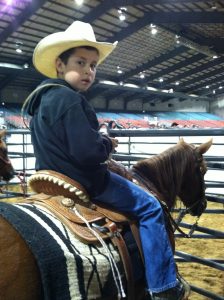 Caden's first blog entry: Awesomeness!
Hi everyone! Sorry this is a little late, but I'm new to blogging. I took Yogi to a KJRA rodeo on November 3rd & 4th in Liberty, KY. Actually my mom and dad took us and we got there late Friday night. I was so tired I fell asleep on the way there and went right in the trailer to bed as soon as we got there. My goal going into this rodeo was to get, and keep, Yogi loping in the Boys Goat Tying 1B, which is a timed event. Sometimes Yogi can be a little lazy and would rather trot everywhere he goes. But in Goat Tying the fastest time wins so we both have to do our part. On Saturday I was able to get him to canter about half way to the goat and after I tied it we got a time of 32.357, good enough for 3rd place. Sunday went even better. Yogi and I loped pretty much the whole way to the goat, I got the goat tied and we won 2nd place. Our time was 21.631, my personal best! This was definitely my favorite day! I was really happy with Yogi!
My other events, which you don't need a horse or pony for, are Boys Chute Doggin' 1B and Dummy Roping 1B. Chute Doggin' is very hard and I don't even remember much about what happened when they let that calf out of the chute. All I know is I didn't get a time on either day. It's a lot harder than it looks! In Dummy Roping 1B I'm happy to report I got 1st place on both days. Awesomeness!
I had a really good time with my friends too. Someone built a bonfire and we spent a lot of time by the fire. My jacket and cowboy hat smelled like campfire after the rodeo. It was really fun watching my friends compete too. It's exciting when they do good in their event or get a personal best time. We all like to root for each other. We all (including our parents and horses and ponies) left Sunday night tired and ready for some rest. But not for long, because practice makes perfect!
Hasta la vista,
Caden & Yogi
About Kentucky Performance Products, LLC
Since 1998, Kentucky Performance Products, LLC has simplified a horse owner's search for research-proven nutritional supplements that meet the challenges facing modern horses. KPP supplements target specific nutritional needs and are formulated to complement today's feeds, thus safeguarding against over-supplementation. Each product is scientifically formulated and made with high-quality ingredients at certified manufacturing facilities. Kentucky Performance Products is proud to offer a quality assurance promise backed by a money-back guarantee. Kentucky Performance Products brings you supplements you can count on because the horse that matters to you, matters to us.
About Kentucky Junior Rodeo Association
Established in 1988, more than 60 children are involved in the Kentucky Junior Rodeo Association throughout Kentucky. KJRA's first sanctioned rodeo was held in April 1989. KJRA comprises three divisions: Division IA for kindergarten through second grade, Division IB for third through fifth grades, and Division II for sixth through eighth grades. The rodeo season runs from September to June. KJRA's mission is to build character in youth, keep the Western Heritage alive and ensure future generations maintain Kentucky's tradition of equestrian excellence.
Go Caden, and Go Kentucky Performance Products!